Afternoon Desert Activities
Al Maha, A Luxury Collection Desert Resort & Spa
Wildlife Safari
This is an ideal opportunity to see the flora and fauna of the desert. You will be accompanied by an experienced field guide who will explain the natural beauty and wander of the desert whilst travelling in the comfort of an air-conditioned 4x4.
Duration: +- 1 hour
Camel Trekking
Camels have been a source of transport since "time" began whilst also providing the Bedu with meat and milk.
At the resort, slow guided camel rides can be conducted under the supervision of experienced camel handlers and field guides. These rides give one the opportunity of linking oneself with the natural splendour of the Arabian Desert. Camel safaris are generally conducted in the evening where the camel train stops for sundown drinks in the dunes before proceeding back to the resort.
No experience is required.
Duration: +- 1.5 hour
Archery
Your Field Guide will be happy to give you a lesson in the noble art of archery, which features heavily in the heritage of Middle Eastern and Bedouin culture.
Under shelter of palm leaves you will see the target in the distance, at the base of a high dune very close by to Al Maha resort.
Donning the protective glove and arm guard, your Guide will demonstrate how it's done before the contest begins. Things usually get quite competitive, so it is well worth taking time to wield and master this age-old weapon that captures the skill and patience of a bygone era.
Duration: +- 1.hour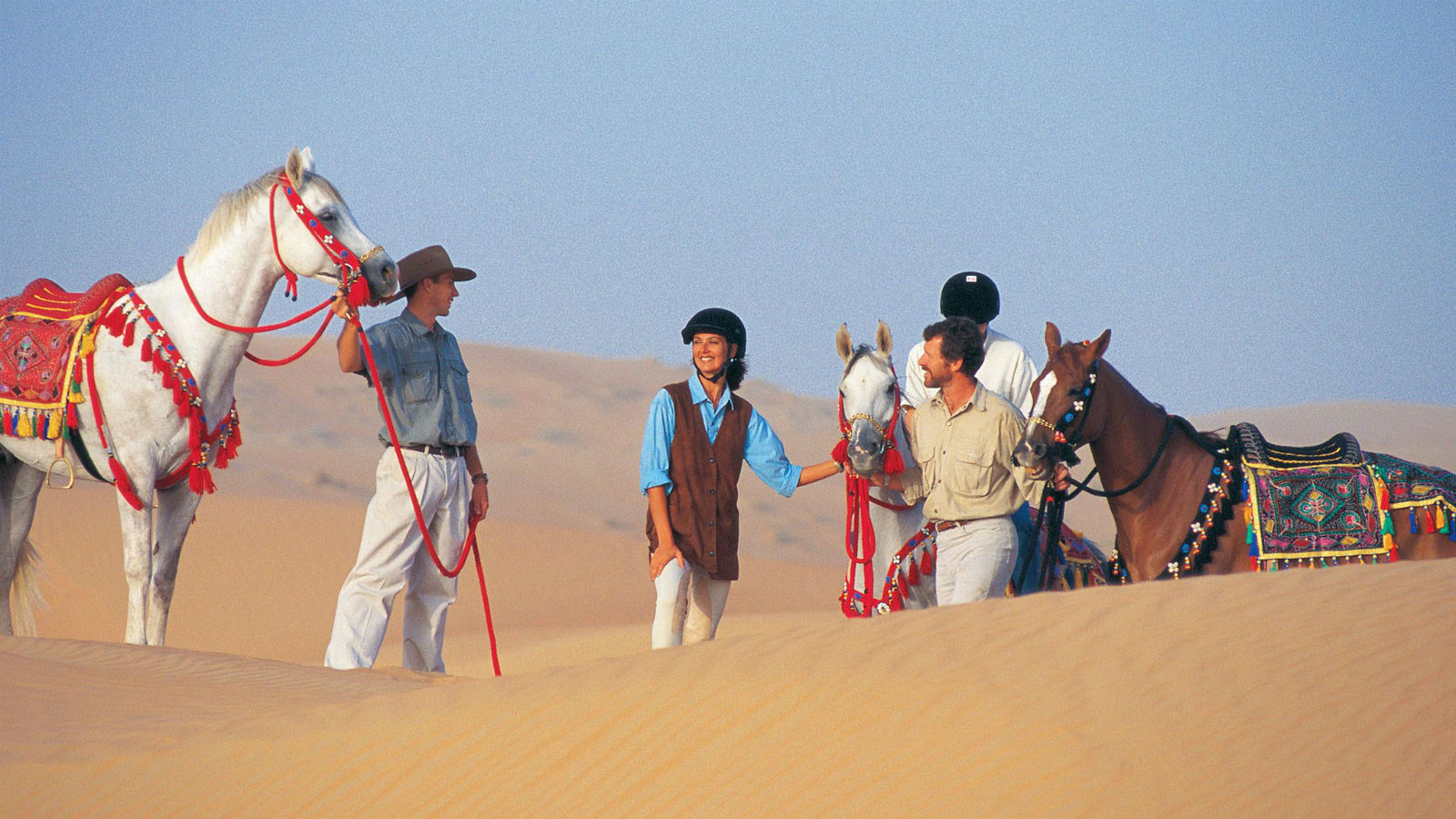 Horse Riding
Arabian horses have been part of the Arabs history for as long back as one can imagine. These horses have been used for transport when crossing deserts and even when fighting wars. Today the Arabian horse has found its way around the globe; fetching high prices as quality stock are bred for different forms of racing. Guided horse rides are generally conducted in the morning or afternoons when it is coolest.
Al Maha has a selection of Arab and Thoroughbred horses, which unfortunately are recommended to experienced riders only and maximum weight limit is 85kg.
Duration: +- 1 hour in the late afternoon
Horse riding can be reserved at an additional supplement of AED 250 per person per activity