Fine Dining Restaurants in Dubai
Al Maha, A Luxury Collection Desert Resort & Spa
For more information and reservations, please email fb.almaha@luxurycollection.com or call +971 4 832 9900.
Embracing the culinary cultures of the East and West, dining at Al Maha Desort Resort and Spa is an experience to savour and remember. With an excellent team all of the menus are exciting, meticulously prepared and flawlessly executed.
Every dish is hand-made, using the finest, fresh ingredients from around the world.
Bespoke dietary requirements are well catered for at Al Maha, including Halal meats, gluten-free dining and the freshest of hand-chosen produce. The resort provides an exemplary culinary experience which has earned Al Maha's restaurant, Al Diwaan, superb reviews and accolades, including the reputation of being among the best food and dining in Dubai.
Al Diwaan
Dine in sophisticated style at our signature Al Diwaan Fine Dining Restaurant, alfresco on the veranda with breathtaking views of the reserve, or in the privacy of your Suite. The choice is yours. Al Diwaan offers international and indegenous delicacies from breakfast, lunch and dinner.
For more information and reservations, please email fb.almaha@luxurycollection.com or call +971 4 832 9900.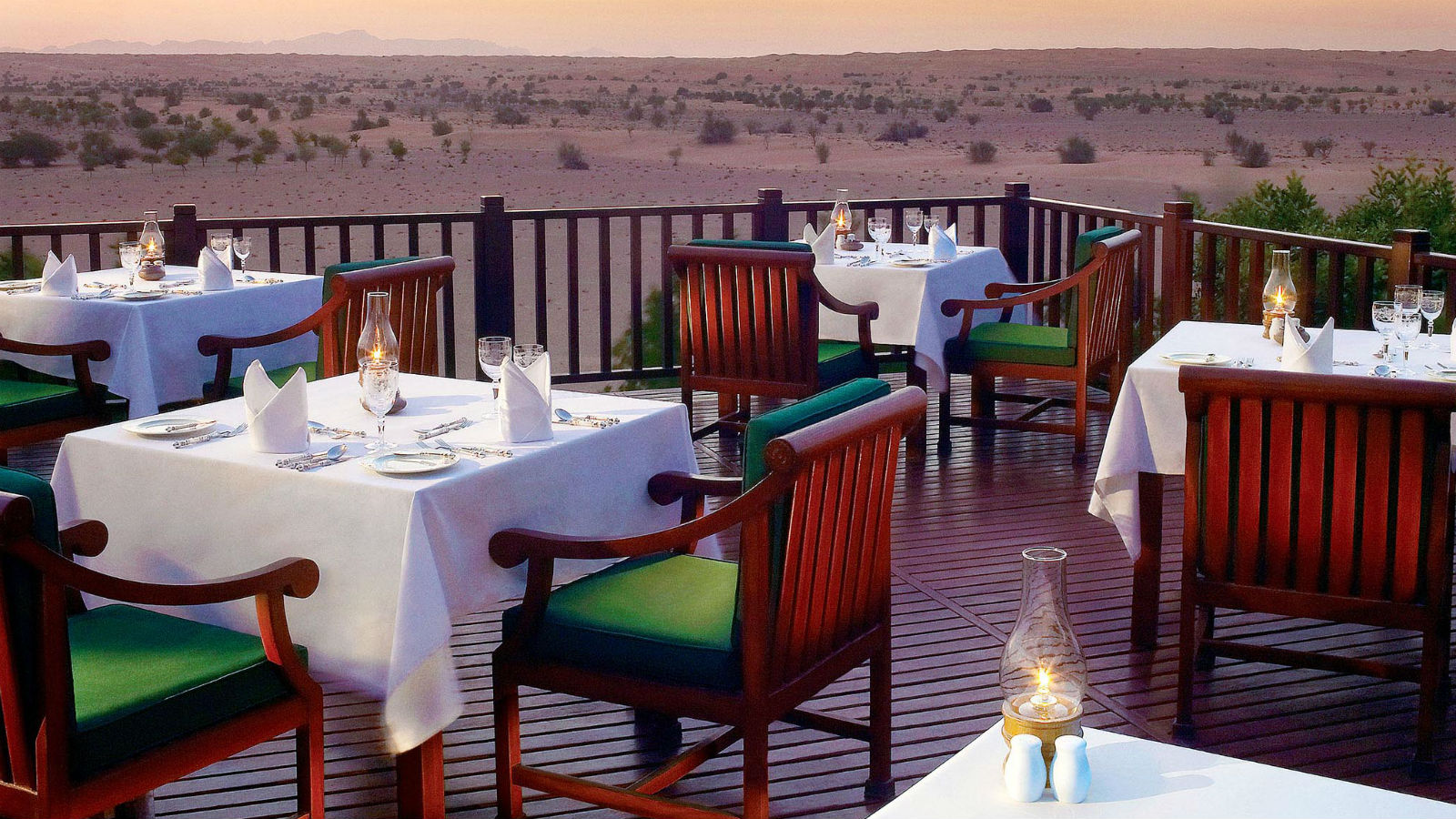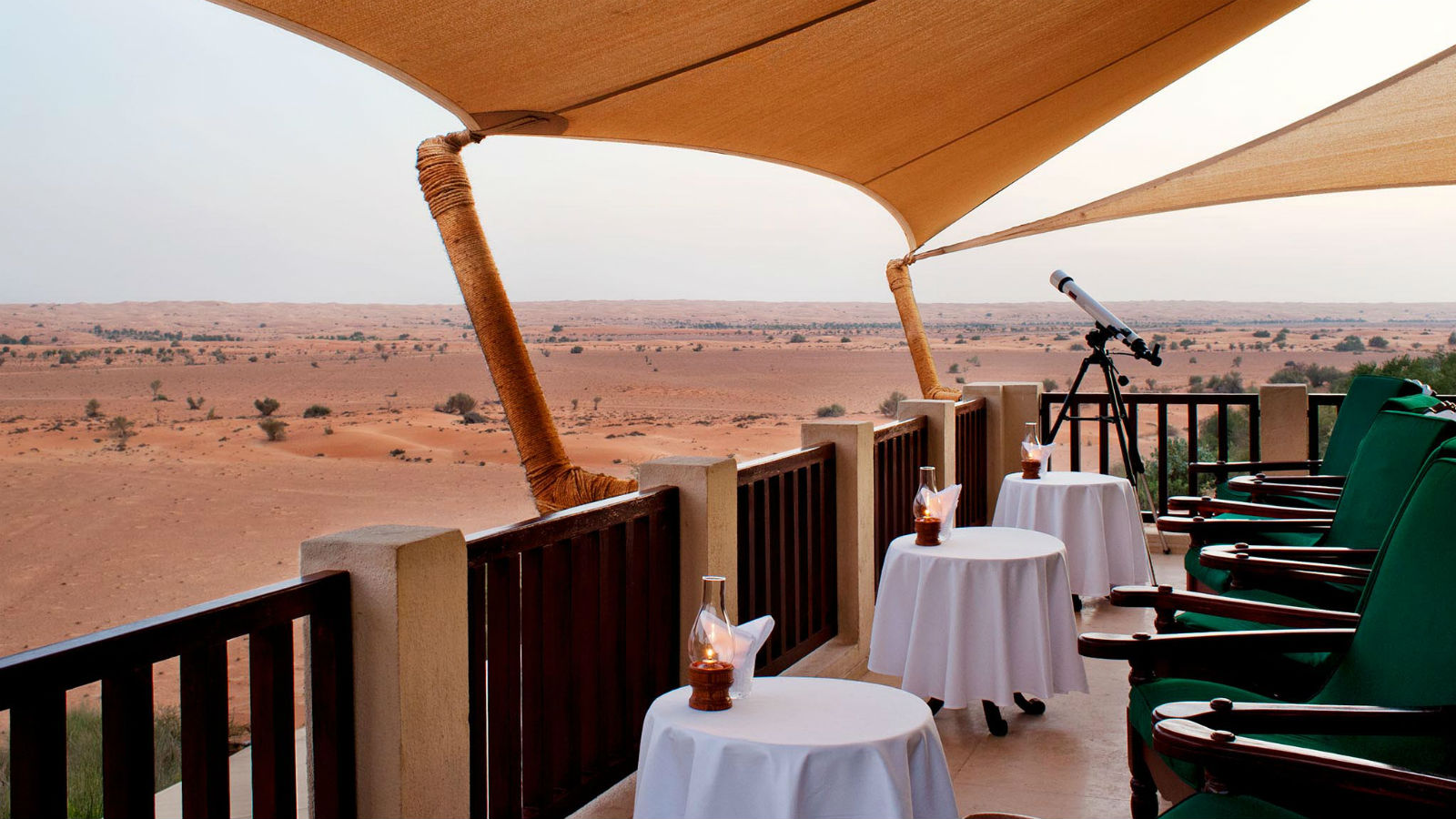 Hajar Terrace Bar
Sunset Hour- High Tea
Just a level above Al Diwaan Restaurant, is the Hajar Terrace Bar.
Enjoy exciting cocktails and beverages at the bar while enjoying breathtaking views of the reserve.
Purchase any cocktail, aperitifs, wine by the glass or beers at the Hajar Lounge Bar and enjoy another with our compliments.
Regular Hours: Daily 12:30 PM - 10:00 PM
High Tea starts: 3.00PM - 5.00PM (According to the season some days will be open until 1800 up to the activity timings)
Price: 160AED (High Tea) + 15 AED DDCR fee per person.
**As an SPG Member you can get a 10% Discount. As an Emirates EK(Platinum) Member you can get a 25% Discount.
Dune Dining
A magical experience of fine dining under the Arabian sky at night. This is a "picnic" on a very grand scale!
The food and the ambience, created by flame torches, Persian carpets and starched white linen, combine to present you with breathtaking memories.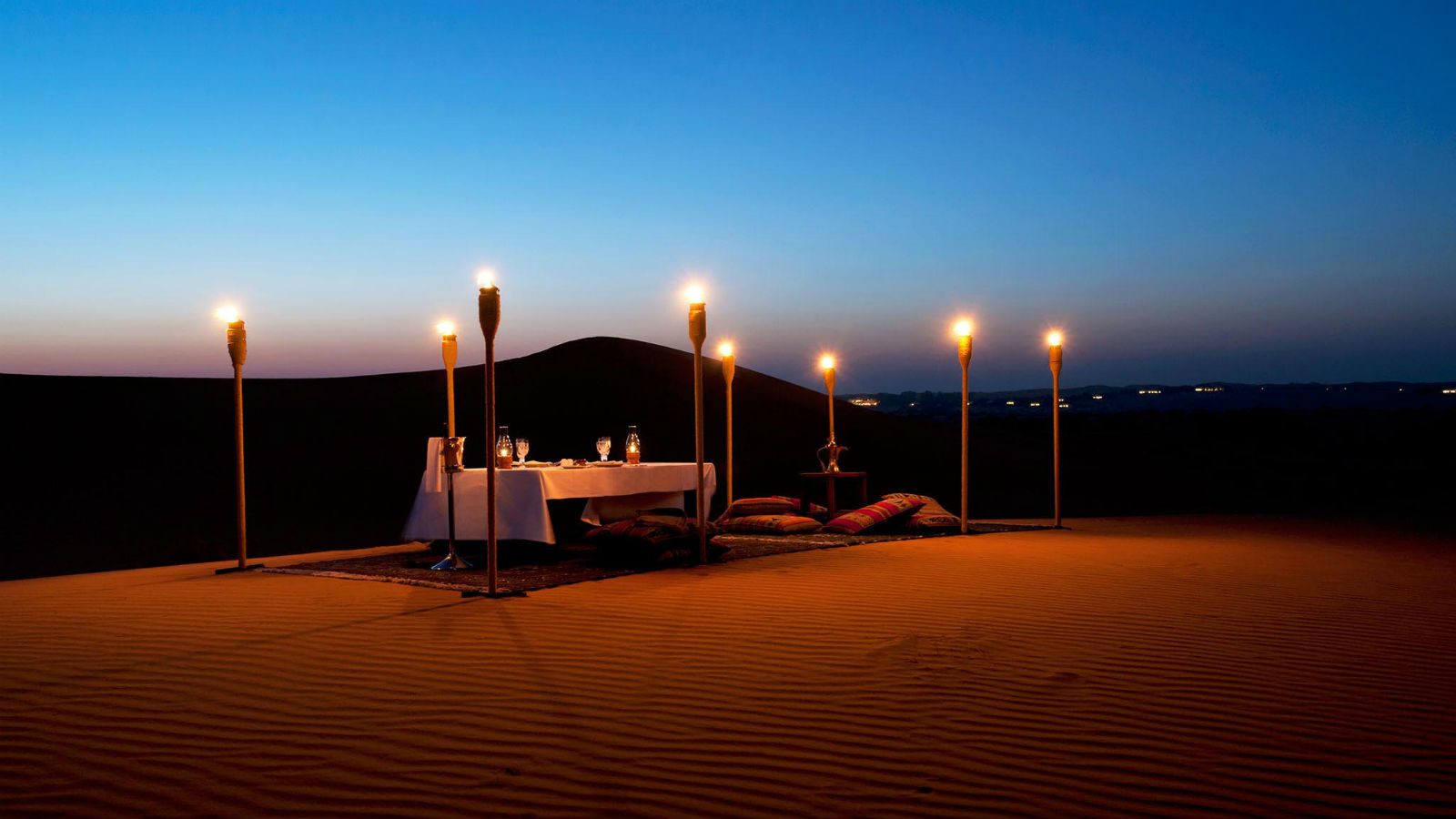 Deck & In Suite Dining
Deck Dining
Relax in the intimacy of a romantic meal, tailor made exactly to your requirements and served on your private deck outside your Suite. We will happily prepare any special meal requests that you may have.
In Suite Dining
Recharge in the comfort of your own secluded space and unwind with a romantic meal, freshly prepared to suit your own distinctive tastes and served in privacy.